Posted by Webmaster on May 27, 2019 | Comments Off

on Joint ICT Networking Dinner (24 May 2019) – Event Photos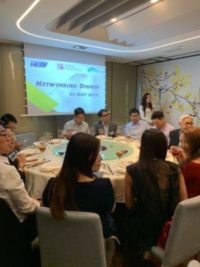 Hong Kong Information Technology Federation (HKITF), Hong Kong Internet Service Providers Association (HKISPA) and Hong Kong Retail Technology Industry Association (RTIA) organized a Joint ICT Networking Dinner on 24 May 2019.
Thank you for The Hon. Charles Mok, JP, Legislative Councillor (IT) be our Guest of Honor shared the IT industry update with the topic of "ICT Development in Hong Kong – where do we go from here?"
We also thank for Mr. Francis Fong, Honorary President of HKITF, had a chitchat session to share the cybersecurity issues with the participants.
We believe all the participants enjoyed the event.
If you are interested in Charles' sharing, please click here for his presentation notes.