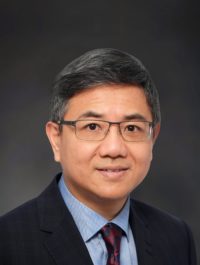 We are pleased to announce that Dr. Allen Wong (黃一川博士) has been elected as the new President of Hong Kong Information Technology Federation (HKITF) effective from 16 July 2019.
Dr. Allen Wong has served as a member of HKITF Council since 2007.
Dr. Allen Wong is the Head of Product and Business Development of PCCW-HKT Ltd, responsible for new product creation, life-cycle management and general business management for the Consumer market. This includes "eye" service for fixed line, fiber broadband, Smart Living – IoT smart home service, HKT Education e-learning solutions for schools, eSmartHealth cloud-based health monitoring for elderly segment and Smart Charge electric vehicle charging solution.  Dr. Wong is also one of the technology founders and patent owner of nowTV platform, and is well recognised in the industry. Aside from serving in HKITF, he is the Chairman of e-Learning Consortium (eLC).
Dr. Allen Wong has over 25 years of R&D experience in Broadband Communication and Video Technologies. Prior to joining PCCW in 2001, he held several senior technical pre-sales positions, including: 3Com Asia, Harmonics Inc, LSI Logic, C-Cube Micro-system and AS Watson Group.  Dr. Wong holds a Ph.D. and BSc in School Electronic and Electrical Engineering from the University of Bath, UK.
Leave a Reply
You must be logged into post a comment.