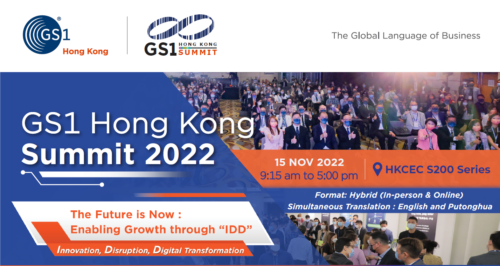 GS1 Hong Kong Summit, one of the most influential industry events in the region, has engaged 10,000+ business leaders across industries over the years.
Themed "The Future is Now: Enabling Growth through "IDD" (Innovation, Disruption, Digital Transformation)" this year, we expect 1500 C-suite executives, entrepreneurs, corporates, SMEs, and policymakers will join physically or virtually to explore how businesses of all sizes can digitally transform into a future-ready business, as well as the latest business innovations in 2022 and beyond.
Please come and join the 21st GS1HK Summit to realize how digitalization can impact your business and 'IDD' enable your company's growth.
Event Details
GS1HK Summit 2022 | Hybrid
Date and Venue : 15 Nov @ HKCEC
Website: https://www.gs1hk.org/gs1hksummit/2022