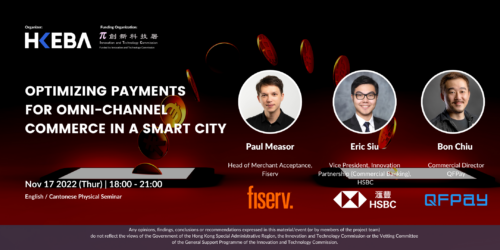 Digital payments have evolved from a novelty to the norm. We are now living in an era where almost anything can be purchased online and payment is just a click away.
A digital wallet like PayMe, a smart point-of-sale (POS) solution like Smart Kiosk, or multiple
payment options has been enhancing the customer journey experience. Besides providing ease of payment, digital payment offers a variety of other benefits to e-commerce businesses that can
enhance their performance.
Date & Time: 17 November 2022 (Thursday) | 18:00 – 21:00
Location: The Hive Wan Chai, 21/F, The Phoenix, 23 Luard Rd, Wan Chai | https://g.page/thehivewanchai?share
Language: English
Fee: Free
Registration Link: https://bit.ly/3ryXJ29